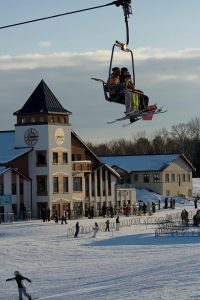 Attention every one looking to ski or snowboard in Barrie: We can't wait for you to see what we've done over the off-season.
We've made a number of improvements to our entire facility and we're excited to offer:
1. More Snow
We have invested nearly a million dollars into MSLM's snowmaking domination plan. We have 22 new TECHNO ALPIN Fan and Lance Automatic Snow Guns at YODLER. Our snowmaking capacity can be pushed to operating almost 200 snow guns at once thanks to a new water pump for Lake Huter.
2. Mountain Upgrades
Our summer operations team moved 50,000 cubic metres of earth to re-grade the Louis Express mountainside. This adds to our snowmaking efficiency.
3. Chalet Renovations for Better Après Ski
Our amazing chalet renovation has added 3,800 sq feet of new space to our existing chalet. This is PHASE 1 of renovation and you will see more additions to the Mt St Louis chalet over the next 3 summers.
4. An Even Bigger Rental Fleet
In partnership with Rossignol, we added 200 new rental ski boots to our superior equipment line and expanded the best rental equipment fleet in Ontario.
5. Our SkOoL YARD
The leader in terrain parks in Ontario is doing it RIGLET styles! Already the best at progression and super parks MSLM is focusing this year on the GROMS with a 3RD TERRAIN PARK aptly named the SkOol Yard. Only this terrain park is built for LITTLE. Meant to teach all ages the fun that can be found on rails, in pipes and on boxes.
If you have any questions about skiing or snowboarding in Barrie, please contact us any time.