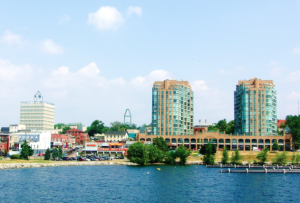 If you are looking to have a fun time in Barrie, or if you are moving here, you're in luck. There is a whole wide array of attractions and activities in the Barrie, Ontario area. Consider some or all of the following things when you visit or move to Barrie.
Skiing at Mount St. Louis/ Moonstone
This isn't just our biased opinion. The proximity to great skiing is right at the top of the reasons Barrie is awesome. Whether you are new at skiing, or you are more at the expert level, Mount St. Louis is the place for you. Enjoy snowboarding as well, on the bag jump and the Junkyard/Outback Terrain Park.
Sweetwater Harvest Festival
Though it is only once a year, this is a festival that is well worth a trip to Barrie. Located in the Wye Marsh, the festival happens annually in early Spring. There are many other programs and events that are run by the Wye Marsh Wildlife Centre, so visit and enjoy the 3,000 beautiful acres.
Creative Cafe
If you enjoy artistic pursuits or activities, Creative Cafe is a great choice for a fun afternoon. There are camps, field trips, regular workshops, classes and a whole lot more.
Retro Planet
This fun centre features 150 arcade games, laser tag, and glow in the dark mini-golf. You can earn tickets for prizes from the redemption counter, depending on how you play. Host events and birthday parties at Retro Planet for a wonderful day.
Theatre By the Bay
Catch a play at the Theatre by the Bay. This location was once the Scotiabank, yet it now houses the premier live theatre venue. Stars Come Out is an event that you are not going to want to miss.
Flying Monkeys Craft Brewery
If you have always wanted to visit a brewery, now is your chance. The Flying Monkeys Craft Brewery is located on the shores of Kempenfelt Bay. The tours are amazing, complete with light shows and pyrotechnics.
Kempenfest
Each summer, Barrie is home to a long weekend's worth of amazing concerts and art shows. The weekend brings together the best acts from the entire area, with a little something for everyone.
If you want to learn more, feel free to check out www.tourismbarrie.com.