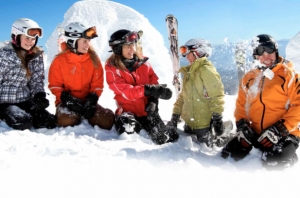 We pride ourselves on being the go-to choice for Barrie's skiing or snowboarding families.
Taking the whole family out can be an incredible bonding experience.
"Skiing makes the short list of sports that allow a whole family to participate as a group. Sure, you can all spend an afternoon at a bowling alley, but you probably wouldn't plan a week's vacation around it," wrote David G. Allan in the New York Times.
"Sailing fits the bill, but with much tighter quarters. My wife's family likes the beach, which is a fine seasonal pastime, but too slow-paced for my adrenaline-fueled clan."
It's true. And it starts when kids are young. I have a friend who's currently teaching his 4-year-old son to ski, with plans to do the same with their younger boy in a year or so. Teaching someone that young, while watching their skills and confidence grow, adds a whole new dimension to the ski experience.
"That kid will be better than you and stealing your thunder by age 12," I tell my friend, always trying to knock him down a bit." "That's the plan," he responds with a smile.
The sheer act of packing up and heading anywhere as a family is always good. It doesn't matter if mom and dad ski, while the kids snowboard. The day on the hill is something you can share and look back on for years.
If you have any questions about snowboarding or skiing in Barrie, please contact us any time.