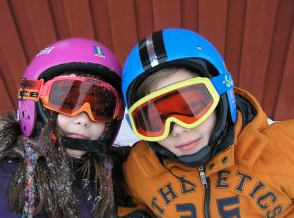 If you're a fanatic, chances are good you want to raise kids who love skiing or snowboarding. Barrie is a great place to grow up, if you spend your winters on the slopes.
As a family-run business, we love seeing parents with their kids. Experienced parents can be found on our hills, teaching their kids to navigate and encouraging every turn.
If you want a hand teaching your kids, we're here to help.
We basically offer two types of lessons for two different age groups:
A great way to introduce your young children to the slopes. Our experts will lead them on a fun lesson to build their confidence and comfort
Available Weekends ~ Daily during Christmas and March Break Holidays
Prices Includes: Child Care from 11:30 am to 12:00 pm or 2:30 pm to 3:00 pm.
Nutritious Lunch may be purchased for $8.50 Plus HST
Mountain Voyageurs Camps ages 7-14
This daily program is geared towards skiers and boarders of all abilities.  A quick paced full or half day program that will entertain and improve existing skiing and riding abilities.
Available Weekends ~ Daily during Christmas & March Break Holidays
Lesson Time 10:00 am to 12 Noon and or 1:00 pm to 3:00 pm
If you have any questions about skiing or snowboarding in Barrie, please contact us any time.