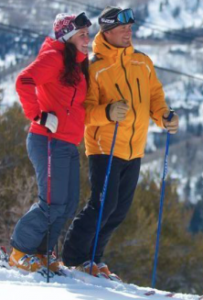 Of course they do. That means they're both awesome. We love to see families and couples out snowboarding and skiing in Barrie.
It's well documented that sharing activities with your partner can help your relationship. It gives you an opportunity to bond and grow together, while giving you something active you can share.
But what do you do if one is a novice and the other is an expert? Should one try to teach the other? That's a bit more complex.
Scott Mayerowitz recently wrote a great article called Making a ski trip work when he skis, she doesn't. He took his fiancée on a ski trip —even though he was a far stronger skier. They decided it would be best if she took some lessons.
"Lessons were key — it was much better for Sheri to get tips from a professional instead of me," wrote Mayerowitz.
Katie Ertl oversees the ski and snowboard schools at Aspen/Snowmass and added, "Taking feedback from someone you love can be the hardest thing. You start to personalize it."
In the end, it worked. She was able to grow as a skier, while he appreciated the effort. They were eventually able to find common ground on some of the more moderately challenging hills.
"We might not have been skiing the steep runs I prefer, but Sheri pushed herself out of her comfort zone. And there, in the middle, we found a way to enjoy the mountain together."
If you have any questions about snowboarding or skiing in Barrie, please contact us any time.